Wireless Modules
TC-35i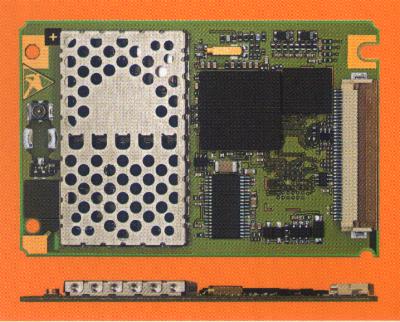 Extrem kompakt und ultraschlank: Unser neues GSM-Modul TC35i eröffnet neue Möglichkeiten für Anwendungen in den Bereichen Telemetrie, Telematik und Telefonie.
Stellen Sie sich nur die neuen Möglichkeiten vor. Für:
Messungen
Flottenmanagement und Verfolgung von Frachtgut
Fernüberwachung und Sprachanwendungen
Verkaufsautomaten und POS-Terminals
Sicherheitssysteme
und viele weitere Optionen für Ihre Planung
Das TC35i ist kompatibel zu seinem Vorgänger, dem TC35. Als wahrhaft optimiertes Upgrade bietet es zusätzliche Leistungsmerkmale wie z.B. das SIM Application Toolkit und erweiterte AT-Kommandos für Anwendungen in der Industrie.

Charakteristika

Dual Band EGSM900 und GSM1800
Kompatibel zu GSM Phase 2/2+
Ausgangsleistung: Klasse 4 (2 W) für EGSM900
Steuerung über AT-Kommandos
SIM Application Toolkit
Multiplex-fähige RS232-Schnittstelle
Versorgungsspannungsbereich 3,3 ....4,8 V
Stromsparmodus
Leistungsaufnahme:

– Idle Mode (eingebucht) 25 mA
– Speech Mode 300 mA
– Peak < 2,5 A
– Power Down 50 µA
– Sleep Mode 3,5 mA
Abmessungen: 54,5 x 36 x 3,6 mm
Gewicht: 9 g
Umgebungstemperatur: –20 °C ...+55 °C
Extremely compact and therefore ultra slim - our new GSM module TC35i opens new dimensions for applications in telemetry, telematics and telephony.

Think about new possibilities in
Metering
Fleet management and freight tracking
Remote monitoring and voice applications
Vending machines and POS terminals
Security systems
And much more for your planning
The TC35i is compatible with its predecessor engine TC35. As a truly optimized upgrade, it offers additional features such as the SIM application toolkit and extended AT commands for theindustrial environment.
The ultra slim GSM module TC35i for boundless communication solutions
The new Dual-Band TC35i is designed for high-volume applications based on data, voice, SMS or fax, it allows easy Integration into a wide range of applications, thanks to its minimized volume and its flexible and easy mounting concept using a ZIF connector and a GSC antenna plug. Thus the TC35i offers the user easy-to-integrate embedded wireless connectivity at bw power consumption. As all Siemens modules it is R&TTE and GCF approved. It is also on the list of recommended modules of leading GSM network operators.
General features:
Dual-Band EGSM900 and GSM 1800
Compliant to GSM phase 2/2+
Output power:

- Class 4 (2 W) for EGSM900
- Class 1 (1 W) for GSM1800
Control via AT commands
SIM Application Toolkit
Multiplex RS232 interface
Supply voltage range 3.3 ... 4.8 V
Power save mode
Power consumption:

- Idle mode (registered) 25 mA
- Speech mode 300 mA
- Peak <2.5 A
- Power down 50 uA
- Sleep mode 3.5 mA
Dimensions: 54.5 x 36 x 3.6 mm
Weight: 9 g
Ambient temperature: -20°C... +55°C
Specifications for data transfer:

CSD up to 14.4 kbps
USSD
Non transparent mode
V.110
7E1-characterframing

Specifications for fax:
Specifications for audio:

Half rate (HR)
Full rate (ER)
Enhanced full rate (EFR)
Basic handsfree Operation
Echo cancellation
Noise reduction

Specifications for SMS:

Point-to-point MO and MT
SMS cell broadcast

Text and PDU mode

Interfaces

40-pin ZIF connector:
Power supply
SIM 3 V
RS232 bi-directiorial bus
Autobauding
Analog audio
Antenna connector GSC, 50 Ohm

Additional features:

Phone book
Multiparty call
Call diverting
Real time clock
Alarm management
Several ringing tones
DTMF (Dual Tone Multi Frequency)
.

Service

TC-35 AT Befehlssatz, PDF Dokumentation, 3MB, klick für download

.
Zubehör

Artikelnummer
Bezeichnung
Preis excl 16% MwSt.
180509
BILD
Minimag Antenne, passend zu TC35, MC35
EUR 33,--
(19003)
457053
BILD
Stecker-Netzteil, 220V, passend zu M20, TC35, MC35
EUR 30,--
19004
BILD
12V Stromversorgungskabel, passend zu M20, TC35, MC35
EUR 20,--
19006
BILD
RS232/V24 Kabel, passend zu M20, TC35, MC35
EUR 14,--
19008
BILD
Handapparat Votronik, passend zu M20, TC35, MC35
EUR 81,--
.