Radio Chest Pack
HLN6602A + RLN4570
Instruction Manual
Description
When properly used, the radio chest pack is designed to carry most Motorola®
portable radios, including the JT1000, conveniently and safely.





Chest Pack HLN6602A
WARNING
To help prevent bodlly injury, the antenna on the portable radio must be secured under the strainling straps provided wlth the chest pack (see the Illustration above).
Instructions
Adjusting the Velcro fabric piece and elastic cord will firmly hold the radio in place. Special instructions for securing small-bodied radios are provided on the back of this card. If the radio is to be operated while secured in the pack, it is recommended.that a remote speaker microphone be used for optimal radio performance
Motorola, and JT 1000 are trademarks or Motorola
Instructions for Securing Small-bodied Radios
1. Unthread the Velcro fabric piece from the 2" webbing/snap piece.
2. Thread the 2" webbing snap piece under the 1" webbing retainer.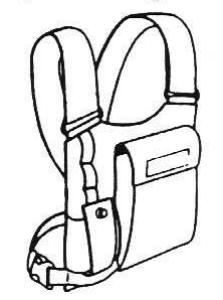 3. Rethread the Velcro fabric piece through the 2" webbing/snap piece.
Part Numbers
The part numbers for the chest pack and replacement strap are as follows:
HLN6602A Case, Adjustable Chest Pack
RLN4570 Case, adjustable Chest pack with breakaway fittings

1505596Z02 Case, Adjustable Chest Pack Strap
| | |
| --- | --- |
| HLN6602 with radio | how to wear HLN6602 |
.