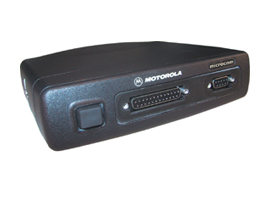 Professional Mobile Radio
The GM3xx is for professionals who need to communicate using the highest levels of radio sophistication. Over the air transmission rates of 9600bps are assured in combination with various operating modes, for example IP, GPS or transparent data transmission. To enhance coverage a GM3xx digipeater using store-and-forward processing techniques may be deployed.

Data Transmission
Leading edge technology and processes have been implemented in the design and manufacture of the GM3xx. State-of-the-art flash memory and µP technology together with an integrated radio protocol particularly tailored for wireless transmission ensures an extremely reliable, fast and robust transfer of data over the air. Real-time continuous data stream transfer rates of 9.6kbps are protected by Motorola´s ingenious forward error detection and correction techniques.


Applications

DGPS
The GM3xx has been designed to support all standard DGPS corrective data formats such as RTCM 2.x, SAPOS and CMR(2) for broadcasting corrective data at one seconds intervals.

Telemetry
requires a versatile radio unit capable of handling a wide range of protocols and modes like modbus or Moscad. Embedded intelligence enables remote activation or deactivation (stand-by mode) of the radio unit.

SCADA
Providing the essential communications back-bone for a SCADA RTU the GM3xx will integrate into existing SCADA manufacturers product portfolio without expensive integration effort.

GPS
A direct interface for the connection of a standard NMEA GPS receiver. GPS receivers from all of the major manufacturers have been tested with the GM3xx (NMEA mode). No external intelligence is required to automatically pass time slot controlled position data or programmable waypoints to the control station. Minimum time slot is 65ms which will allow the tracking of up to 16 vehicles per second.

Military and Commercial Weather Stations
The GM3xx series are rugged, reliable radio modems connecting weather stations sensors to computers. Recognizing the requirements for high-end monitoring applications, the GM3xx series lead the way.

Video
Security organisations are often required to protect remote installations, frequently on a temporarily basis requiring rapid deployment. The GM3xx can support security level video links to transfer compressed data at 9.6kbps offering a very cost effective approach to remote observation.

TCP/IP
The RS232 interface of the GM3xx in conjunction with Motorola's IP technique enables compatibility with TCP/IP to establish wireless IP networks.

Versatility
Backwards compatibility is assured with systems already deployed using the Motorola radio family. All available accessories heads from the GM300 Professional Radio Range can be combined to provide system solutions.