SCAM Series

Self Contained Army Mast

Today's mast for tomorrow's
military systems
For nearly two decades the SCAM Series of Clark Masts has been accepted and used inquantity by a number of Military Forces round the world. As a Radio Relay mast it is still hard to better. The original 12 metre model was quickly joined by others which cover heights between 7 and 21 metres. They are all supplied as complete kits having all the items necessary for field erection anywhere. In a large percentage of cases they are vehicle mounted. For such applications vehicle mounting accessories are available. SCAM Series masts are not lightweight and need a two man team to operate, four men in the case of the 21 meise model. However, even this weight becomes an advantage when the mast has to be Set up on a hard surface such as a road or a cobbled farmyard without the possibility of pickets and guys. Overall the emphasis has been on fine design for efficiency in operation coupled with a construction that can withstand the rigours of a military environment.
Standard SCAM Series Kit Components
General Description
Since introduction, masts in the SCAM Series have undergone many detail improvements. Unchanged however are the features that make it instantly recognizable - the rugged square section all-steel mast case and the four adjustable steel legs, rigidly attached to the case for great stability. The case hauses an aluminium alloy telescopic mast having a maximum of 8 sections. Each section is fitted with a clamp collar to enable the mast to remain extended indefinitely, independent of the air pressure used for extension. At the top of the mast a sturdy and very effective socket clamp is fitted which directly accepts antennas fitted with the draft NATO standard 40 mm dia spigat. The swivelling guy collar which is also incorporated in the mast head, is arranged to pass two heavy feeder cables inside the guy collar, allowing the mast, even when guyed, to be turned 3600 or moved without being limited by antenna feeders. Intermediate height feeder guide rings are provided to prevent flapping in high winds. The turning of the ball bearing mounted mast is almost effortless using a folding handle. A brake is fitted. Azimuth may be read from a pratractor ring calibrated in five degree steps or, an request, 50 mils. A built-in bubble level assists vertical setting up. Although a hand pump is provided in the standard Kit, air pressure from other saurces, as convenient, may be used for extending the masts. In the past SCAM masts have been widely vehicle mounted including special installations on armoured vehicles. On all such matters Factory advice is always available.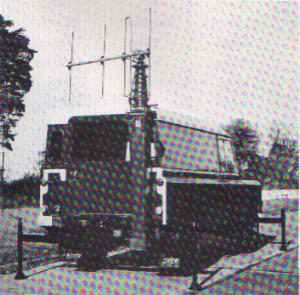 Brief Specification
Mast Sections
Heat-treated light alloy to BS1471, HT30TF. Anodised green or gold-sand to DEF 151.
Guys
Prestretched green or dark red terylene equipped with 'arctic' snap hooks and ball tensioners
Castings
Die cast aluminium LM6 alloy.
Operating Temperature
+55°C to -40°C (Dry)
Finishes
Zinc plating and passivating to DEF9O3D. Paint finishes to DEF 1110 or DTD5580 Military GreenDesert Sand or other colours on demand
Maximum Ground Slope
Field erected 24°
Cloth
Nylon coated decontaminable cloth with approved straps and buckles
Maximum Ground Area Needed
2,5 metres x 2,5 metres
In-Service Support
Like other masts in the CLARK Military Range, base servicing information and the benefits of an SCAM Series masts are fully supported with lists of on-going factory Post Design 0ff ice which also recommended spares at all echelons, field and undertakes applicational Study Contracts.
Range Table for SCAM Series
MAST MODELL

Scam 7

Scam 9

Scam 12

Scam 15

Scam 18

Scam 21

Ausgefahren Höhe (Meter)
Extended Height

7,40

9,62

12,0

15,26

18,0

20,97

Eingefahren Höhe (Meter)
Retracted Height

2,04

2,08

2,36

2,87




3,75

Anzahl der Rohre
Number of Sections

6

8

8

8

8

8

Durchmesser des obersten Rohres
Diameter ot Top Section

88,9 mm
3,5"

63,5 mm
2,5"

63,5 mm
2,5"

63,5 mm
2,5"

63,5 mm
2,5"

63,5 mm
2,5"

Durchmesser des untersten Rohres
Diameter of Bottom Section

152 mm
6"

152 mm
6"

152 mm
6"

152 mm
6"

152 mm
6"

152 mm
6"

Abmessung des Transportkasten

18 x 18 mm

18 x 18 mm

18 x 18 mm

18 x 18 mm

18 x 18 mm

18 x 18 mm

Mastgewicht(kg)
Weight of Mast Unit

65

73

82

92




120

Gewicht kompletter Mastsatz
Weight of Complete Kit

142

150

160

168




197

Max.empfohlene Kopflast (kg)
max. Recommended Headload

70

40

35

28




18

Aufnahme Bohrung des obersten Rohres
Antenna Socket Size (mm)

40

40

40

40

40

40

Ausfahrzeit mit Handpumpe ohne Kopflast (sec)
Time to Extend Mast using Handpump with no Heaload

120

120

180

240




360

Einfahrzeit (sec)
Time to Retract Mast

45

60

75

75




120

max Wind mit Abspannung (km/h)
Max. Recommended Wind speed guyed (mph)

144
90

144
90

144
90

144
90

144
90

144
90

Radius für Erdnägel (m)
Picket Radius

4,3

5,4

6,9

8,7




12 & 2,4

Preise, Neu, zzgl. MwSt

Kat.-Nr.
7965
7050
7051
7052
18681
7330
Preis/Price EUR
12.025,--
11.621,--
12.235,--
14.548,--
17.120,--
19.690,--

Preise, gebraucht, zzgl MwSt

Preis/Price EUR
verkauft
-,-
4000,--
-,-
-,-
-,-
Wir haben eine Vielzahl von Zubehörteilen für den freien Feldaufbau, Fahrzeugeinbau, Fahrzeuganbau und für die Befestigung an Containern im Lieferprogramm.

Bitte klicken Sie auf Zubehör
Wir liefern auch Maste bis zu 30 Meter Höhe und einer Kopflast bis zu 200 kg. , Lieferzeit ca 16 Wochen


.